A six hole notebook that coexists with standard copy paper
Masayuki Takabatake
Born in 1974 in Kagawa Prefecture. Masayuki began as an elementary school student whose favorite subjects were in arts, crafts, and science, and has arrived here after 20 years. As the three-time TV champion of the National Stationery Championship, he is the King of Stationery. Currently, he works with a stationary manufacturer developing stationery businesses. Masayuki has published the Ultimate Stationery Catalogue in 2006 and is a sponsor of the stationery site TOWER-STATIONERY.
"I'd like to have a notebook custom-made for my own use."
At a certain tavern in Akihabara:
King of Stationery: I've got the ideal notebook!
Minami: What kind of notebook is it?
King of Stationery: It's got a six hole notebook on one side and standard copy paper folded in fourths on the other, and you can jot notes on the outside...
Minami: It's like those multipurpose pencil boxes kids were obsessed with in the 80s...! It's functional, stores a lot of stuff, and is even a little bit playful.
King of Stationery: It's almost like it's custom made, exactly the way I want it.
Minami: It looks satisfying just to hold. I want one too. Would you make one for me?
King of Stationery: Uh...!
It began with a casual conversation just like this. But it ballooned to involve a large number of people to solve a large number of challenges and now our King of Stationery Notebook is finally complete. With the permission of the King himself (famous as a champion on TV), we're sharing this custom made notebook with you as well.
A six hole notebook that coexists with standard copy paper
Six hole organizer paper refills come in the most varieties and standard copy paper is the most common standard size, and now you can carry around both with you. This notebook was created expressly to fulfill this desire for the King of Stationery. This is the King of Stationery's six hole notebook, which has a perfectly placed holder for carrying copy paper sized documents.
A device for instant notetaking with zero start-up time—you don't even have to open it
It was extremely important to us to craft an environment in which you could jot down the gist of a talk or an idea that came to you quickly, simply, and without effort. To do so, we considered our main goals to be "start-up time" and "start-up effort". With existing notebooks, in order to take notes, you have to open up the notebook and find a page you can write on. In our King of Stationery Notebook, a page you can write on is right there on the front of your notebook, so your start-up time and start-up effort are both just about zero. If you want to look at the contents of your notebook (for example, your schedule), you can open your notebook; but if you just want to jot a note, you can do so without opening it. This is how we suggest using this notebook.
A special structure that holds both six hole organizer paper refills as well as standard copy paper perfectly
The jotter portion of this notebook is uniquely built to hold both six hole organizer paper and standard copy paper folded into fourths. If you opt to use copy paper folded in fourths, you'll have a total of eight "pages" to write on when you use both sides of the page. Copy paper also carries the advantage of being easy to digitize using a scanner. You can use a scanner and Evernote to archive all of your handwritten notes, together in one location for easy access.
Stuff it with various tools
A flap pocket (93mm wide and 40mm tall) is placed on the inner left side of the notebook. If you insert anything thick into an ordinary daily planner, its shape bulges outwards. We've carefully used the empty space in the King of Stationery Notebook where the copy paper and the six hole notebook paper don't overlap to put a pocket for small items. You can store your small tools and gadgets, such as important keys, coins, page markers, or SD cards. The lower folder can easily store bills, receipts, tickets, or other similar items.
Carry your needed tools with you
The back cover of this notebook has a patch of Velcro (loop-side) which is soft to the touch. This is a unique feature not seen in any other notebook or planner. If you attach pieces of Velcro (hook-side) to your items such as a pocket Wi-Fi hotspot, calculator, cell phone, digital camera, or business card case, you can attach them neatly to the back of your King of Stationery Notebook. You may have to use it to understand exactly how useful it is to be able to attach your things to each other so that they stay sorted out in your bag or if you're moving around the office. And if you choose not to use the Velcro, it won't get in your way or stand out, because it's the soft loop side and black in color.
We were picky about the band that keeps this Notebook shut. Rubber bands tend to stretch out as time goes on or even break entirely. With our King of Stationery Notebook, you can change the band whenever you want to whatever kind of band you want. You can use hair bands or bands in your favorite color or choose bands based on their thickness or how they feel to the touch. We hope you'll enjoy customizing your Notebook with your own preferred band.
Japan's Technique × Design
Use of Japanese Leather Processing Techniques
Our abrAsus items are built without the use of premade leather and instead use a light, tough leather custom ordered and selected especially for abrAsus and processed and completed in Japan. Additionally, the stitching is done in a durable thread of the highest quality, which won't break or fray easily. Only natural cowhide is used for abrAsus products. Please enjoy the tangibility of the leather, crafted by artisans of Japan.
Skilled craftsmen put their best efforts into each one
abrAsus products are made thoroughly and one at a time, with Japanese craft workers handling every process, including the treatment, skiving, sewing, and lacquering of the edges of the leather, from start to finish. Some of the workers involved in our craftsmanship are over 65 years of age. It's no overstatement to say that it is thanks to these richly-experienced craftsmen with meticulous attention to detail that this portable, functional, and well-designed abrAsus product has become a commodity. abrAsus products are an item of incredible quality born of an innovative, unprecedented idea through our leather craftsmen's bounty of experience and passion.
Uses refillable six hole organizer paper and standard copy paper (folded)
Immediately take memos without having to open the notebook
Inner flap pocket for keys, coins, sticky memos, SD cards, etc.
Pocket for storing bills, receipts, tickets, etc.
Ruler included
2 card holder areas
Velcro cover to attach calculators, mobile devices, digital cameras, business card holders, etc.
Exterior Material: Water-repellent leather
Exterior Material: Urethane processed cotton-based fabric
224mm high x 115mm wide x 20mm deep
166g
*Please visit our Product Care page for information on caring for your leather.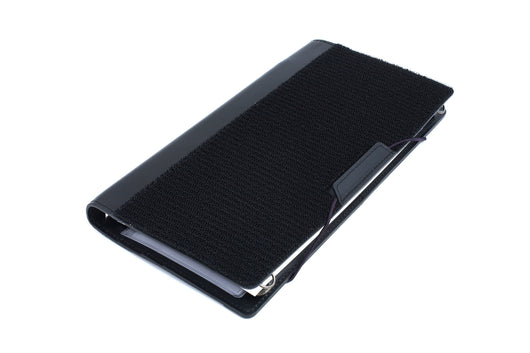 Top